Reference No: 11/2012
November 2012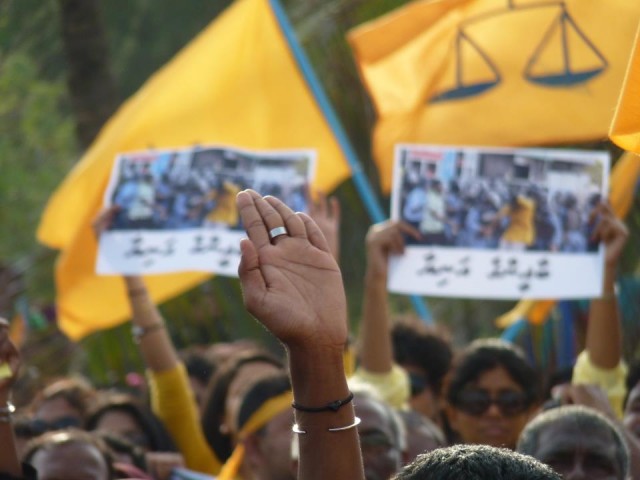 The removal of the Maldives' first democratically-elected government in February 2012 by individuals loyal to the Maldives' former dictator, Mr. Maumoon Abdul Gayoom; the extreme police brutality against pro-democracy protesters which followed on February 8th, none of which has led to prosecutions; the deeply one-sided report of the Commission of National Inquiry (CoNI); and the repeated failure of domestic oversight bodies to condemn human rights violations or establish accountability; have together led to an overwhelming climate of impunity in the Maldives. This climate has been further amplified by the failure of the State to secure justice for the gross and systematic human rights violations (including extrajudicial killings and torture) which took place prior to 2008.
In order to fight against this pervading climate of impunity, the Maldives Democratic Party (MDP) publishes this monthly summary of human rights violations committed in the country, and the degree to which the State is responding to those violations by securing redress for victims and accountability for perpetrators .
Update November:
As can be seen from the below statistics, since the previous 'Impunity Watch Maldives' report, no progress has been made in securing accountability for serious human rights violations committed by State actors since February 7th.
130 The number of documented cases of police brutality against protesters
57 Documented cases of police brutality against women and minors/number of women and minors arrested for participating in protests calling for early elections
862 The number of protesters and MDP supporters detained for participating in protests calling for early elections or protests questioning the legitimacy of the Waheed Government
80 The number of protesters and MDP supporters charged with 'terrorism'
7 Number of MDP activists arrested on charges of 'terrorism' for allegedly attempting to attack the personal property of Gasim Ibrahim, leader of the Government-aligned Jumhooree Party and senior member of the Islamic coalition which brought down the Nasheed Government. Despite lack of evidence and despite confusion over the nature of the charge and the relevant legal provisions, all seven were handed a maximum sentence of 7 years imprisonment.
1 Attempted murder of MDP Chairperson by Police on February 7th
80 The number of documented cases of torture, cruel, inhuman or degrading treatment committed against protesters in detention
3 The number of MDP former ministers (cabinet-level or state ministers) beaten or arrested since February 7th
17 The number of MDP Members of Parliament beaten or arrested by the Police
10 The number of MDP Members of Parliament summoned to the police for questioning and/or facing prosecution by the State
1 The number of MDP Members of Parliament removed from their seats by pliant judges since February 7th
19 The number of MDP party officials (e.g. local councillors, mayors, elected officers) beaten or arrested by police
31 The number of MDP party officials summoned by the police for questioning and/or facing prosecution by the State
11 The number of journalists beaten and/or arrested for covering protests or for taking photographs recording police brutality
1 Child placed under house arrest because (according to police) "his father is an MDP politician" (and thus the child is likely to cause unrest)
50 Number of heavily-armed riot police needed to break down the door of a private residence, attack its occupants and arrest President Nasheed (who, according to a police statement afterwards, "fully cooperated" with officers)
2 MDP activists arrested in connection with murder of Dr. Afrasheem Ali MP despite complete lack of evidence or alleged motive
And yet…
0 Number of police officers prosecuted for brutality against protesters, torture or other human rights violations
1 Number of police officers charged on allegations of brutality against protesters, torture or other human rights violations
2 Number of promotions awarded to that same police officer by the Government
0 Number of times the Government has condemned police brutality and/or other serious human rights violations committed by State actors
0 Number of times UN Resident Coordinator Andrew Cox has condemned police brutality and/or other serious human rights violations committed by State actors
0 Number of investigations by the Human Rights Commission of the Maldives or the Commission of National Inquiry that have led to prosecutions for human rights violations by State actors
158 Number of days since Hilath Rasheed, blogger and human rights defender, was stabbed and nearly killed, and also number of days that police 'investigation' has made no progress
39 Number of days since murder of Dr. Afrasheem Ali MP during which time the police investigation has made no progress; also number of days that the Government has continued to deny that religious extremist groups may have been responsible
119 Number of days the Government has failed to act on the recommendations of the United Nations Human Rights Committee to investigate "systematic and systemic" torture in the country, to reform the judiciary, the Police Integrity Commission and the Judicial Services Commission, and to secure accountability for police brutality since February 7th
1 Number of torture accountability commissions rejected in Parliament by Government MPs in violation of the State's obligations under ICCPR
ENDS
—
Hamid Abdul Ghafoor MP (Maldivian Democratic Party)
Henveiru Dhekunu Dhaairaa, Male'
#2, Shady Corner, Janavaree hingun,
Male', 20050, Maldives