Reference No: 71/6/2012
June 20, 2012
Maldivian Democratic Party Strongly Condemns Continued Intimidation by the Police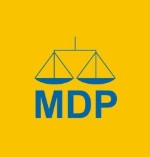 The Maldivian Democratic Party strongly condemns continued intimidation and harassment by the Maldives Police Services against those who are openly discussing the coup d'etat orchestrated by factions of the police and military that forced Maldives first democratically elected President to resign on 7 February 2012.
Member of Parliament and former chairperson of MDP, MsMariya Ahmed Didi was served summons for questioning by the Police in relation to an ongoing investigation late night on Tuesday, 19 June. The summon comes only a day after Ms. Didi released a report based on the "timeline of events" publicized by the Commission of National Inquiry (CoNI) on Dr. Mohamed Waheed's involvement in the coup d'etat. She stated in her report that Dr. Waheed should face criminal charges for violating Article 30 of the Penal Code.
The Police summons of Parliamentarian Didi comes on the heels of the arrest of the Chief of Police Intelligence, Mohamed Hameed for allegedly providing information to an investigative report on the coup last week, thus establishing a clear and dangerous pattern of intimidation and harassment of peaceful, non-violent dissent by the sitting government and it's security forces.
The MDP strongly believes this is a cowardly act to intimidate people who are willing to come forward and provide reliable information to the newly composed CoNI that has been mandated to conduct an inquiry into the transfer of power in February. "The Government arrested the head of the Police Intelligence last week alleging he provided information to a detail report on coup d'etat authored by Nasheed's former Ministers. A day after MariyaDidi, in her capacity as a lawyer outlined the criminal charges against President Waheed, she is being summoned." said Hamid Abdul Ghafoor, MDP's spokesperson for international affairs.
Ghafoor added, "This is only intimidation and an attempt to stop any and all whistleblowers and peaceful dissenters. But, people of this country are committed to establish a democracy in the Maldives. Maldivians will not tolerate such intimidation and will continue our protests, reports and coming out with the evidence on the coup."
ENDS
Hamid Abdul Ghafoor
Spokesperson, International Affairs