Reference No: 61/5/2012
29 May 2012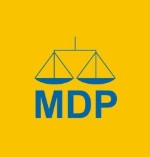 In a further worrying sign of Maldives' descent into a Police State, the Maldives Police Service (MPS) today attacked a group of Maldives Democratic Party (MDP) MPs who were monitoring moves by the MPS to clamp down on the constitutional right to peaceful assembly. The violence occurred when the police moved into the MDP's Usfasgandu rally ground apparently in an effort to find 'illegal items' and evidence of 'criminal activity'. After searching the area, police found some cigarette ends and a packet of condoms.
Earlier in the week, the Criminal Court refused a Government request to issue a court order for the forced dispersal of the protest camp, which has been granted to the MDP by Male City Council. The next day, the Home Minister, Dr. Mohamed Jameel, author of the now-infamous 'pamphlet of hate' in which he attacks Jews and Christians, claimed that he had suddenly received information about illegal activities at Usfasgandu and sent in the police to investigate alleged 'illegal activities' and alleged 'black magic' being performed in the area. Among other things, the police warrant alleged that on 25 May "MDP protesters threw a cursed rooster at MNDF (army) officers".
With a group of mainly female protesters stood at the entrance to the camp, the police moved in forcibly removing a group of MDP MPs who had arrived to monitor developments and ensure that there would be no police brutality. Since the overthrow of President Nasheed, the Maldives has witnessed a marked increase in incidences of police aggression – with hundreds of people beaten, arbitrarily detained, and tortured.
After announcing the discovery of the cigarette ends and condoms, the police announced that they would decide whether to close the site.
Speaking afterwards, the MDP's spokesperson for international affairs Hamid Abdul Ghafoor said, "It is important for any democratic society that MPs are allowed to monitor and oversee the actions of State institutions, and to look-out for the well-being of citizens. The MPs present at Usfasgandu, who included the MP for the local constituency, and MPs who are members of the parliamentary committee with oversight of the police, explained to police that they were there to monitor the situation in order to avoid violence. The police responded by violently removing the MPs, including female MPs.
This demonstrates again, their and the Government's disdain for rights such as freedom of assembly as well as their increasing willingness to resort to violence.
The MDP notes that no police officer has yet to face disciplinary action for the violence committed on February 8th or since. They are operating with complete impunity. It is time for the international community, including the IPU, and UN and the US, which have so far been silent on these abuses, to speak more forcefully to the Government"
ENDS
Hamid Abdul Ghafoor
Spokesperson, International Affairs
Mobile: +9607778285
Tel: +9603340044