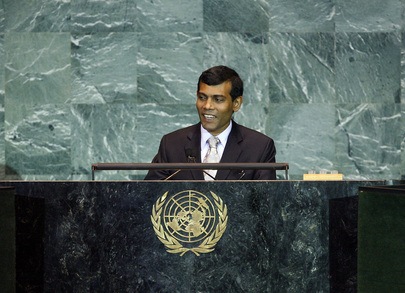 President Mohamed Nasheed has called on Egypt's longstanding ruler, Hosni Mubarak, to step down and "heed the will of the Egyptian people."
In an interview to the BBC on Tuesday evening, the President said that Egypt needed an "interim arrangement" without Mubarak, that leads to free and fair, multi-party elections.
The President's remarks come as hundreds of thousands of pro-democracy demonstrators gather in central Cairo to call for an end to Mubarak's 30-year autocratic regime.
President Nasheed called on Western powers not to fear a democratic Egypt, which, he said, was the best guarantor of fundamental liberties and human rights
"Suppressing people with extremist views through repressive means only makes them stronger," he noted.
"Egypt is a mature country. It contains many reasonable people who are capable of ruling reasonably," the President said.
"Fundamental rights and freedoms are human aspirations… things that all of us want. These forces are playing out on the streets of the Middle East today," the President added.
Earlier this week, President Nasheed telephoned Egyptian opposition leader Mohamed ElBaradei.
During the call, the President said that "Maldivians have always loved freedom and thus Maldivians will always support those who are peacefully advocating for political freedom in Egypt."
Mr ElBaradei thanked the President for his call and said Egyptians would take note of lessons learnt from the Maldivian democracy struggle.